Similar to my blog on Calgary, I'm asking you to keep an open mind as there will be some obvious tourist places. Just remember, they are popular for good reason! It's okay to be a tourist, even if it is in your own backyard. I believe this extensive list encompasses the best activities, tours, and things to do to help you explore this beautiful city that I call home.
This list is written for all seasons, so there are some activities on here that are only available at certain times of the year. Don't let that be a worry, there's plenty of suggestions on here that are wonderful and enjoyable in all months. I just had to write this comprehensive post out with all of my favourite Vancouver activities, walks, museums, tours, markets, parks, and other adventurous pursuits to share my love of this incredible city.
Before I go any further, if you're in Vancouver during the colder months, then you just can't leave without seeing a live Canucks game at the Rogers Arena. The atmosphere is electric, the crowd is loud, vibrant, and passionate, the food options are *chefs kiss*, and the beers are gigantic at 24oz (albeit expensive). Being an unashamedly massive Canucks fan means that every friend of mine who visits Vancouver is going to be tagging along with me when there's a game on. If the game is sold out, or tickets are over your budget, we still have you covered. Head to The Sportsbar LIVE! at Rogers Arena. They have huge TVs playing the game live, and the bar is filled with boisterous and jolly fans. Go Canucks go!
Find a bargain at one of our Vancouver markets
The Vancouver Flea Market is one of the quirkiest markets in Vancouver that has everything one could ever need or want, including many things that fit into neither bracket… but we buy them anyway because it's such a good deal! Situated in the historic Ellis Building (built in 1907), it is 10,000sq ft. and filled with the most unique array of vintage, antique or new goods you'll come across. With 50 or so vendors, you'll find goodies such as handmade leather and pottery delights, houseplants, cute cacti and succulent displays, fantastic food, jewelry, breathtaking artwork, vintage records, upcycled one-offs, henna tattoos, fresh fruit from the Okanagan, gorgeous handbags, retro comics and games, and so much more! This market is irresistible to even the less enthusiastic shopper.
One of the most beautiful ways to spend a free day is to take the SeaBus from Waterfront Station across to Lonsdale Quay and explore North Vancouver. Stepping off the SeaBus, you're steps away from the Lonsdale Quay Market which boasts over 60 fresh food vendors, quirky retail shops, artisans, restaurants and more. It's a great way to spend an hour or two just strolling through with a few tasty treats you've purchased. Just next to the Lonsdale Quay Market is the fascinating Polygon Gallery, a vibrant art institution with a focus on photography and media based art, that is sure to inspire and captivate. After strolling the markets and art gallery, you're surrounded by restaurants with waterfront patios to enjoy a drink and city views before returning back downtown.
Granville Island is the 2nd most visited destination in Canada, and for good reason. The Granville Island Public Market is the epicenter of Vancouver's culinary passion. You'll find organic breads, fresh Coho salmon, live Dungeness crabs, artisanal meats and cheeses, freshly baked goods, fruit and vegetables from local farms and more. This really is a foodie's paradise. On the rest of the island, there's boat tours, souvenir shops, art galleries, buskers,  and great bars. If you're visiting from downtown, taking the AquaBus across is recommended. It's a super cute little boat that operates on False Creek that makes for great pics, and a bonus is that it skips the traffic crossing the bridge.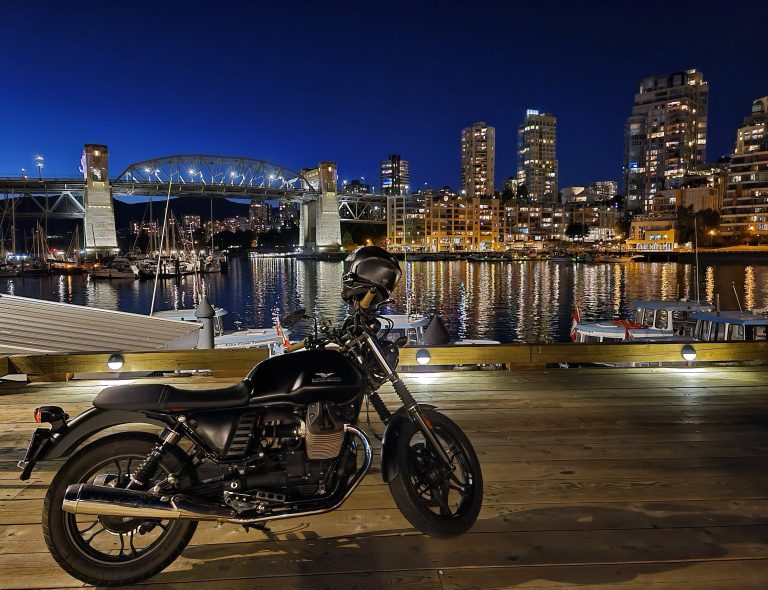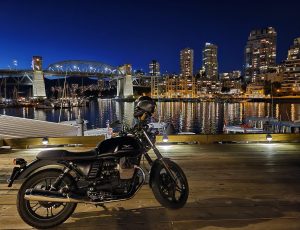 (views from Granville Island, featuring my motorbike)
Exhilarating Vancouver adventures
There's not really anything more Canadian than a lumberjack, and what better way to embrace your inner lumberjack than throwing axes? You can try your hand at axe throwing (and sword fighting!) with Axewood Crew in downtown Vancouver. Excellent for a date night, going with friends or for a corporate event, the Axewood Crew will make sure you're having a blast. For something pretty special, a seaplane flight over Vancouver has to be at the top of the list. One of the best things I've done in Vancouver is take a seaplane flight and tour with Harbour Air. I can't recommend their Taste of the West Coast tour more highly, which includes a 2 hour Zodiac boat tour through the fjords, an amazing lunch on Bowen island and a seaplane flight back to Vancouver.
Another uniquely Canadian experience is FlyOver Canada. You will hang suspended, feet dangling, while the film whisks you away on an exhilarating journey across Canada, from east to west. The film and the special effects really do make you feel like you're flying. After your film that will inspire more love for Canada than ever before, a short and incredibly scenic seawall walk is in order, and by keeping the mountains in view, it will take you across to Stanley Park. Large hidden lakes, a Pitch n Putt course, remarkable beaches with mountain views, tennis courts, and larger than New York's Central Park, our prized Stanley Park is sure to impress as it really has something for everyone. Make sure to visit Lost Lagoon, a 41 acre body of water where you can find beavers, turtles, raccoons, and dozens of bird species hidden amongst the tall reeds. Continuing along the seawall is a must, and you can follow the signs to the Vancouver Aquarium, which is filled with over 58,000 animals in total from land and sea. Visit the sea lions who bark and belch loudly when hungry, the playful and inquisitive otters, our local harbour seals and the smart and curious octopus. With a focus on marine research, marine animal conservation and rehabilitation, this is one aquarium you can feel good visiting.
If you know me, then you know that I'm more than a little bit motorcycle obsessed. And if you've been thinking about what it would be like to ride a motorcycle, or wanting to come on a ride with me, then you're in luck! You can ride a fully automatic 49cc scooter with Cycle BC around Vancouver. They have a variety of Vancouver routes for you to explore, ranging from 1 hour to 8 hours, and all you need is a driver's license. Cycle BC will get you equipped with all the necessary gear and give you a run-through of the controls and you'll be on your way. Grab a baguette and some cheese and pretend you're scooting around some Parisian streets!
Did you know that Vancouver is one of the few cities in the world where you can see Orcas? A whale watching tour is the best way to get out and have a chance of seeing these majestic animals, and we recommend Vancouver Whale Watch. Located down in Steveston (a really quaint historic town worth checking out, and our favourite spot for fresh fish and chips), it is worth the trek by car or transit. Using smaller zodiac style vessels, they are able to travel more quickly on their small tours, which means you have a higher chance of seeing killer whales, porpoises, humpbacks, seals and eagles. Whale watching season is April 1 to October 31st. Book in advance as tours do sell out.
Have you been blessed with a glorious sunny day in Vancouver? Head over to Granville Island and try out HydroBiking with Vancouver Boat Rentals! HydroBiking (or water biking) is kayaking and bicycle riding combined into one, and it's one of the best ways to explore False Creek, as you're higher off the water for better views of your surrounds. If you're wanting to get out of the city, then kayaking in Deep Cove might be perfect for you. Deep Cove Kayak Centre is located in one of the most beautiful parts of Metro Vancouver, nestled in between mountains and with calm water perfect for a paddle, there's few places more idyllic than this. If you've still got energy left and fancy a hike, the Quarry Rock Hike trail is a 5 minute walk from the kayaking centre. A 45 minute hike to the top will present you with captivating views of Deep Cove and the surrounding forests. After your adventures, head to Honey's Doughnuts & Goodies for some comfort food and some of the best doughnuts I've ever had!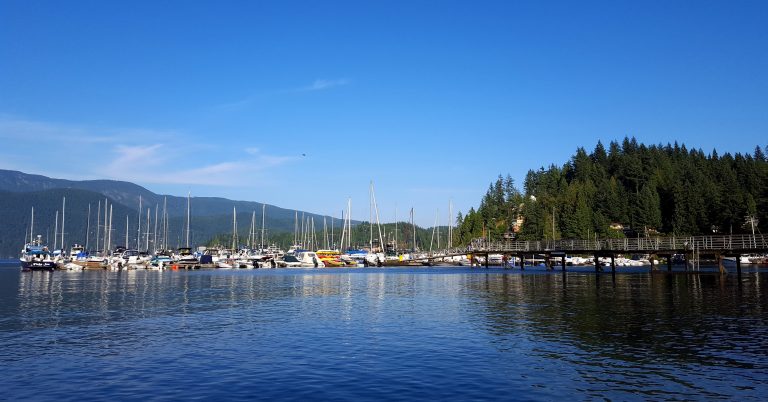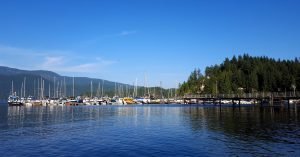 (breathtaking views of Deep Cove)
Get lost in our green spaces
It would be an incomplete list without mentioning the best parks for the Christmas Lights in Vancouver. There's two that you have to visit and both for completely different reasons. VanDusen Botanical Garden is the first, for its impressive one million lights spread out over 15 acres of their gardens. Running for over 35 years now puts the VanDusen festival lights as the longest running winter holiday attraction. A visit with Santa is on the lineup, and there's food vendors through the garden selling treats and warm drinks. Outside of the Christmas lights festival, the VanDusen Botanical Garden covers over 55 acres, which includes an Elizabethan hedge maze and over 7500 plant species from all over the world.
The second must-see for the Christmas Lights in Vancouver is a visit to the Capilano Suspension Bridge Park. With over half a million lights, it's not quite as extravagant as VanDusen, however, they have so much going on! The suspension bridge is 140 metres long and 70 metres above the Capilano River, surrounded by views of the breathtaking rainforest and the rushing waters below. Get yourself a hot chocolate and walk through these enchanting gardens that will spark wonder and joy from even the grumpiest Grinch. Interactive light displays from sound and movement, large lit up creatures flying overhead, and ponds that glisten from the overhead lights are just a few of the wonders of this place. There's live music playing from an enthusiastic band and the atmosphere is electric. Just down the road you can visit the Capilano Fish Hatchery (daytime only) where you'll be able to see up close the giant salmon jumping up the stream to lay their eggs, and get to learn about their incredible life cycle.
If you're after views of the city, a drive up to the Cypress Mountain lookout will get you just that, being able to see out to Mount Baker and Vancouver Island on a clear day. The bewitching views really are out of this world and won't disappoint… unless there's a lot of fog around, in which case, maybe heading to a local pub is a better idea! On a clear evening, there's not many things nicer than some quiet stargazing, and this experience can be found at the top of Seymour Mountain. Make sure to take lots of warm gear and maybe a hot beverage, as the temperature up there is often 10 degrees less than at the base of the mountain. Both of these mountains are fantastic in the summer or winter – they offer sledding and snow shoeing, stunning and secluded walking trails, downhill mountain biking and more.
Grouse Mountain is another obvious must-see attraction. At 1,200 metres tall, they offer even better views of Metro Vancouver, though there is an admission cost. You can either do the grueling Grouse Grind hike to the top and catch the gondola down to save some money, or for those not interested in the extra exercise, you can take the gondola both directions. Grouse Mountain is probably one of the most amazing places in Vancouver you could visit – with sleigh rides, snowshoeing, skiing, snowboarding, and ice skating in the winter, and lumberjack shows, zip lining, a grizzly bear refuge and more in the summer, there's something to enjoy for everyone.
Queen Elizabeth Park marks the highest point in Vancouver City from the top of Little Mountain, and it gives you sweeping views of the city center, False Creek and the towering mountains. You can enjoy pitch-and-putt golf, tennis, disc golf, and more while exploring the extensive 130-acre gardens. The Bloedel Conservatory can't be missed during your visit, an indoor tropical garden environment consisting of over 100 birds and 500 plant species. If you're hungry or thirsty after your wander, you should visit the Seasons in the Park restaurant, serving mouthwatering Pacific Northwest dishes, with panoramic views of the city.
If you're wanting to get away from the main crowds, and explore a gigantic forest with great walking paths, then Lynn Canyon is the spot for you. Like the Capilano Suspension Bridge Park, they also have a suspension bridge (50 metres high and 48 metres long), and you've got over 615 acres to explore. Plus, there's no admission fee! Below is a photo of my friend's dog, Bernie, exploring the wonders of Lynn Canyon on a hidden swing off one of the many trails. You can follow him on Instagram.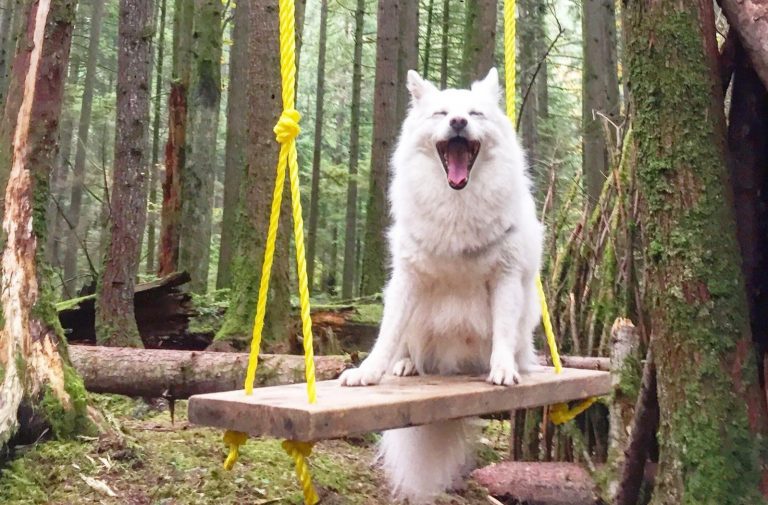 (hidden swing in Lynn Valley)
Take a Vancouver walking tour with the professionals
Did you know most cities around the world now have free walking tours you can enjoy? Well, Vancouver now has them too! You can go on your free walking tour with Tour Guys. Their 2 hour Gastown Historical Tour is informative and fun, giving you detailed information on the transformation of this historic part of Vancouver. Tipping your guide at the end of the tour is welcomed and encouraged. After your free walking tour, the Vancouver Lookout is a short stroll away and will give you brilliant 360° of the surrounds.
We mentioned Granville Island earlier, and it's absolutely worth getting to, but we know it can be overwhelming if you're going for the first time. To get the most out of your time on this quirky island we cannot more highly recommend a food walking tour of Granville Island with Vancouver Foodie Tours. The tour is 2 hours and you'll try over 20 signature Canadian mouthwatering delights, plus you'll get to know the island and layout more quickly so you'll feel more like a local with your now in-depth knowledge.
A photography walking tour with Nature Photo Hikes will enable you to improve your photo skills while getting to experience some of the most beautiful parts of BC. They have an awesome 6 hour tour to Bowen Island tour with ferry ride from Horseshoe Bay (see photo below!), all while learning how to take the best landscape pics. Whether you've got a top of the range DSLR camera, or just your phone, your guide will help you take the best photos. If 6 hours is just too long, they have tours starting from 2 hours depending on your photography interests and schedule.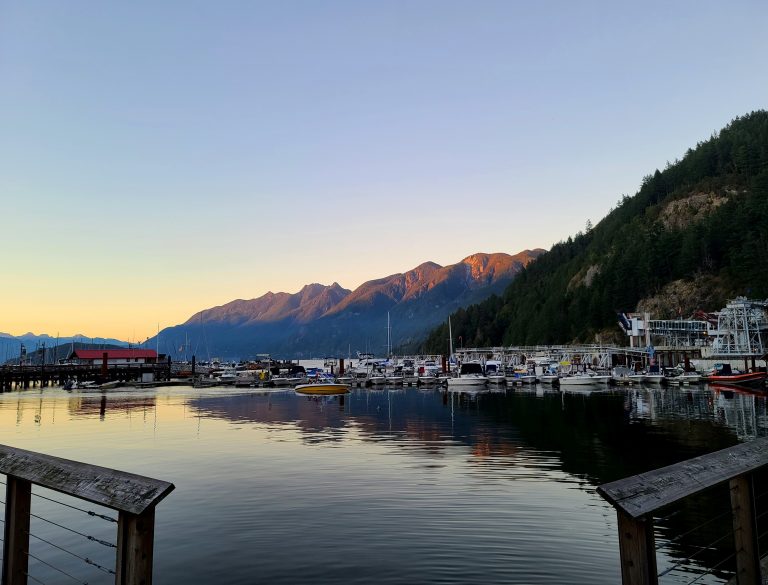 (the calm waters of Horseshoe Bay)
Cultural strolls
Tuesday nights in Vancouver are a treat, for just a donation you can get admission to the Vancouver Art Gallery (normally $24). One of North America's most respected and innovative visual arts institutions, the Vancouver Art Gallery (which occupies a 15,300 square-metre building and was founded in 1931), is regularly the home to seasonal ground-breaking exhibitions, and is the permanent home to approximately 12,000 works by artists from Canada and around the world. Located in the heart of downtown, there's plenty of cool bars and restaurants for after your visit to satiate your appetite. If science is a passion of yours, then a stop to Science World is an absolute must. Fun interactive exhibits, with no expense spared on their giant exhibits, this museum is ever-changing and always invoking wonder with those who visit. Located on the waterfront, this geodesic dome building stands out as one of our most beautiful pieces of architecture, originally built as the Expo Centre for the Expo 86 world's fair. Both inside and out will amaze and it's easy to spend your whole day at this fascinating science centre.
Located in Kits Point are 3 museums that are unique, extraordinary, and sure to quench your thirst for cultural experiences in Vancouver – the H.R. MacMillan Space Centre, the Museum of Vancouver, and the Vancouver Maritime Museum. Space and space history, Canadian history from the 1900s to now, indigenous culture, maritime history and ever-changing exhibitions, these three galleries will fill an entire day and evening until your heart is content. I won't go into detail on these incredible cultural experiences as I feel they speak for themselves. Visit them and I know you won't be disappointed.
If you're still craving more history and culture, located in the University of British Columbia is the Museum of Anthropology, where you can learn about the First Nations peoples and other cultural communities of BC, Canada. Totem poles, carved figures, house posts and more from the mid-19th century are permanently on display in the Great Hall, with other exhibits including the works of Bill Reid, over 600 European ceramics and stone wear dating back to the 16th century, and an outdoor area featuring Haida artworks. This museum is one of the most awe-inspiring cultural museums in Canada. For more Indigenous artwork, the Bill Reid Art Gallery (located in downtown Vancouver) is Canada's only public gallery dedicated to contemporary Indigenous Art of the Northwest Coast.
If you're still reading, then you've earnt this one. One of the best hidden gems of Vancouver is the Rennie Museum, a contemporary art museum that features rotating exhibitions every couple of months. Previous featured artists include Yoko Ono, Damian Moppett and Richard Jackson. The Rennie Museum offers guided tours (for free!) held on most Saturdays and select weekday evenings. You'll need about an hour for the tour, which includes access to a breathtaking rooftop sculpture garden. They don't have a phone number to call, but their website lists their current exhibits and you can reach them through their contact form if needed.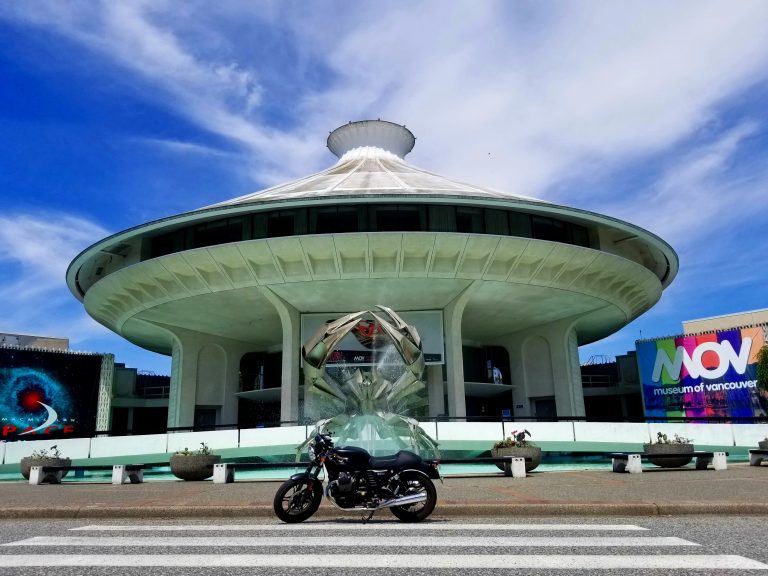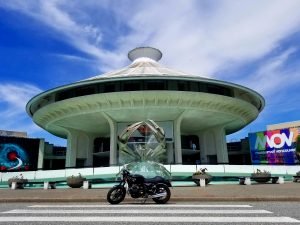 (the iconic crab statue and spaceship of the Museum of Vancouver)
No matter what you choose from this list, I'm sure it will reignite your love for Vancouver in a whole new way. If this is your first time visiting Vancouver, I hope you will see the magic and wonder that I see in this vibrant city every day. Vancouver might not be the city that never sleeps, but it's surely the city that never ceases to amaze.
If you're looking for some Vancouver food and drinks suggestions, make sure to read my earlier article here.
*Note – Due to COVID-19, many attractions and activities are currently temporarily closed, so make sure to check their websites before you visit. This list was written as an homage to my love of Vancouver and to promote the best our city has to offer, to help others explore this unique and fantastic city.
.
.
Reach out to a Worldgo Specialist at 1-888-236-1566 or by email at travelrequests@worldgo.ca
Written By: Holly Atkins
October 15th, 2020
Holly Atkins has been working in tourism for many years as a travel manager, tour guide and on the front desk in a couple of hotels. An Australian Canadian citizen that now permanently resides in beautiful Vancouver, BC, Holly can't think of a better place to call home with the vast mountains and her oceanfront dwelling. Touring on motorcycles for the past 14 years has allowed her to see places that few discover, and get off the beaten path to experience all that the open roads have to offer. Visiting a vast amount of the Oceania region, trekking around Europe, discovering BC and most recently travelling to Jordan and Egypt, she's always looking forward to the next adventure!