Visiting a new city for work can be difficult when you're on a time crunch. You want to get out and explore, go to the best cafes and restaurants, and see some sights, all in between your meetings and other work obligations. But how do you choose? Worry no more. I thought a "top threes of cities" would be useful, so to kick it off… let's start with the Emerald City, Seattle!
Top 3 Eateries in Seattle:
If you have the morning off, I highly recommend getting your brunch fix in, and there's nowhere better to go than to the Portage Bay Café. The Seattle Benedict is a crowd favourite, but make sure you don't miss the breakfast bar with their heavenly French toast options. As a heads up, the service can be slow but it's worth the wait, I promise. No matter where you're staying in Seattle, the Portage Bay Café has got you covered with 4 locations… just make sure to make a reservation.
Salty's on Alki Beach is the place to go for incredibly fresh seafood, and sweeping views of Puget Sound. To get there, just take a water taxi to West Seattle (Seacrest Ferry Dock) and it's a short walk along a path with ocean views. I highly recommend you order yourself the Best Friends (seared scallops and cured pork belly!), with a side of their grilled Fremont sourdough with garlic whipped butter. If you're looking for a feast, then look no further than the Surf, Surf and Turf which brings together lobster tail, prawn and steak skewers, garlic potatoes and crispy garlic green beans. Yum! To walk off all of the calories, take a stroll down to Jack Block Park – there's a cute beach, and a 45ft observation deck to get really lovely views of downtown Seattle.
For a relaxed dinner, there's few spots better than the Tapas Lab. This order-at-the-counter tapas bar is perfect for an easy dinner, either on your own or with some work friends. A Spanish/Japanese tapas fusion, with menu items such as bulgogi pincho, ricotta meatballs, quinoa stuffed mushrooms, deviled eggs, and the truffle gnocci, this hidden gem is sure to delight even the pickiest of eaters.
Top 3 Experiences in Seattle:
Can an art gallery be an experience? This one, absolutely. One of the most beautiful art galleries in the world would have to be the Chihuly Garden and Glass. The artist, Dale Chihuly, takes you through eight interior galleries and a lush outdoor garden with captivating and inspiring glass sculptures throughout to amaze and delight. Honestly, it's worth going to Seattle just to see this gallery. I never thought I'd be raving about glass sculptures until I came across Dale Chihuly's work. If you have the time, trust me on this one, just do it – tickets are around $30 and worth every cent.
One of the top things to check out in Seattle is of course the Pike Place Market, and there's no better way to experience it than taking the Signature Tour of Pike Place Market with Savor Seattle Food Tours. This 2 hour tour includes over 14 tastings and gets you acquainted with the layout so you will know exactly where to go next time!
Helicopter tours from a city are often beautiful, but can be pretty dull if there's no variety. Well, that's certainly not the case in Seattle. With Seattle Helitours you will start downtown, flying over the iconic Space Needle, experience the majestic Snoqualmie Falls (honestly, it's so beautiful it barely seems real), and to top it all off you will be able to fly over a live volcano,  none other that Mt. Rainier! Did you know that you can actually see Mt. Rainier from Vancouver, BC, on a clear day?
Did I say top 3? I meant top 4. In Seattle you can also go skydiving indoors, with iFLY Seattle! I couldn't leave this one out as it's just so cool. No matter your experience or fitness level, iFLY caters to all abilities. Starting at only $50 for two flights, it's worth trying once. As it pops up in more and more cities worldwide, perhaps this won't be the last time to get your thrill on… unleash your inner daredevil!
Top 3 Spots for Work Drinks in Seattle: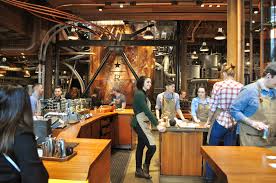 Did someone say coffee? Not just an average café, the Starbucks Reserve Roastery & Tasting Room is basically a really chill craft distillery… but with coffee. This Starbucks looks like none you've ever seen – watch beans being freshly roasted while chatting with the staff about their wide array of international coffee options, enjoy the "experience bar" and have your coffee made with a siphon, or have a flight of coffee shots. Alongside their comprehensive list of coffees and standard Starbucks treats, they also have a full menu of delicious sandwiches, salads and pastries. For something with a bit more kick (read: booze), they have a special menu for Signature Coffee Cocktails after a long work day. The Starbucks Reserve Espresso Martini features Kalak Single Malt Vodka, vanilla bean syrup and dark chocolate… uh, yes please!
Thinking about hitting up some random bar for after work drinks? Well, you can do just that, at Some Random Bar. Yes that's actually the name of this quirky venue. Local new American eats in an authentic brick-walled gastropub, this bar is located downtown but a little off the beaten path, and you'll find it filled with locals chowing down on the crab nachos and washing it down with a craft beer. I love this bar because it seems homely and modest, the food is mouthwatering and very generous in sizing, and the drinks selection has something for everyone. The perfect spot for after works drinks where no one will feel underdressed or out of place.
Roquette is an elegant and sophisticated bar with all of your new favourites that you never knew existed. There's a strong French influence, the menu contains simple and delicious snacks to pair with your drinks, are they are handcrafted by bartender and owner, Erik Hakkinen (formerly of Pike Place's Zig Zag Café). For something that will ignite all of your senses, I recommend the unique creation called "Blow the Whistle". As there's only 5 tables inside, a reservation is necessary.
Top 3 Free Things to do in Seattle:
Have you ever been sailing? If you are in Seattle on as Sunday, you can now try it out for free. Located at the Center for Wooden Boats they offer free sailing every Sunday, and it's a tradition that has continued for over 25 years. Sign ups begin at 10am on Sundays, but make sure to arrive early as spaces are limited. Head out onto the water with volunteer skippers and crew on spirit boats, electric boats, steamboats, schooners, and occasionally yachts – all at no cost, and it lasts for about an hour.
One of the coolest places to check out in Seattle is the Olympic Sculpture Park. It's located a mile from the Seattle Art Museum's headquarters, on a nine-acre former industrial site, and has over 20 magnificent sculptures featured. One of the most popular pieces is Alexander Calder's monumental Eagle, which lines up perfectly with the Seattle Space Needle when viewed from the south-west. It's also a beautiful park to sit in and admire the views over Puget Sound.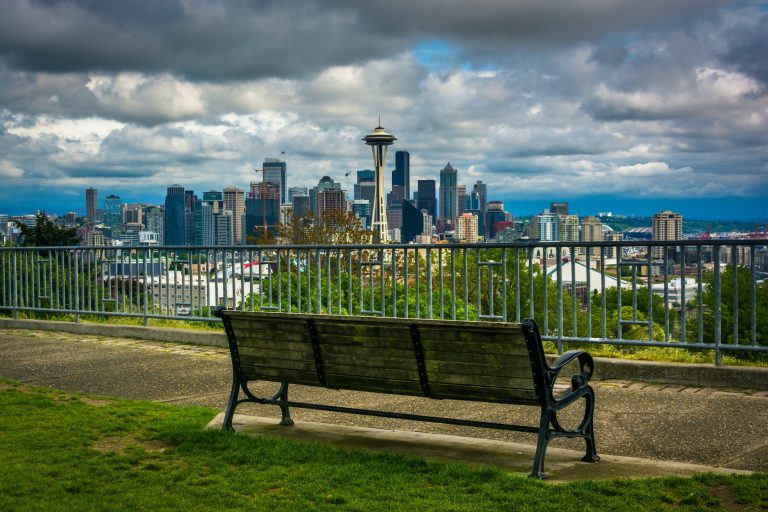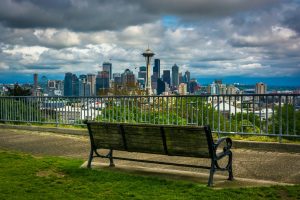 For the best views of Puget Sound, downtown Seattle and Mount Rainier, Kerry Park just cannot be beat. Kerry Park is a very small public park on the south slope of Queen Anne Hill, just a 10 minute Uber from downtown or 25 minutes on transit. Bring along a blanket, a baguette, a selection of cheeses, a couple of cold drinks and have yourself a picnic to take in the breathtaking views. From here you'll be able to catch views of Mt. Rainier and Elliott Bay, and it is known as one of the best spots for magical sunset viewing. As a bonus, if you're a Grey's Anatomy fan, it's just a 5 minute walk to the intern's house!
Top 3 Business Travel Hotels in Seattle:
Quirky, cute, comfortable and surprising, the Hotel Five Staypineapple Seattle is the perfect spot for a more modest budget, without having to compromise. Lovely vibrant rooms, luxury bedding, free refreshments, dog friendly, and high-speed internet – what more could you need? Located just a couple of blocks from the Pike Place Market and Space Needle, this is a sure winner. 116 guest rooms and boardrooms able to accommodate up to 60 people.
One of our most popular business hotels, the W Seattle is a contemporary hotel with luxury amenities, located right in the heart of downtown Seattle. Spacious rooms, a private recording studio, dog friendly, a vibrant bar scene and live music, an incredible atmosphere… this hotel has something for everyone. If you're feeling like you need to get moving after a long day of sitting in meetings, the W Seattle again has you covered with their fitness centre. Over 10,450sq ft of business event space, and 16 event rooms, perfect for even the largest of conferences, meetings, and events.
The only downtown Seattle hotel located directly inside the Pike Place Market, Inn at the Market is a surprisingly tranquil home away from home. Located by the Seattle waterfront and just steps from the vibrant Pike Place Market, this boutique hotel is in a prime spot for any out-of-town visitor. Featuring a quiet rooftop deck and bar, you can sit up here and enjoy the views for hours. Perfect for smaller business meetings with a seating capacity of up to 20 people in their Courtyard Meeting Room, or up to 14 people in the Beecher's Loft meeting space.
Is that it…?
Absolutely not! There's so much to see and do in Seattle that you're going to be absolutely spoilt for choice during your stay. It was hard narrowing these down, but it had to be done. If you're visiting Seattle for business or leisure, you are now a little bit more of a local and know some of the hottest spots to check out.
Are you looking to set up your business with a travel management company? Reach out to a Worldgo Specialist at 1-888-236-1566 or by email at travelrequests@worldgo.ca
Written By: Holly Atkins
January 20, 2021
Holly Atkins has been working in tourism for many years as a travel manager, tour guide and on the front desk in a couple of hotels. An Australian Canadian citizen that now permanently resides in beautiful Vancouver, BC, Holly can't think of a better place to call home with the vast mountains and her oceanfront dwelling. Touring on motorcycles for the past 14 years has allowed her to see places that few discover, and get off the beaten path to experience all that the open roads have to offer. Visiting a vast amount of the Oceania region, trekking around Europe, discovering BC and most recently travelling to Jordan and Egypt, she's always looking forward to the next adventure!