The Best of Chicago – 3 x three-pointers
Visiting a new city for work can be difficult when you're on a time crunch. You want to get out and explore, go to the best cafes and restaurants, and see some sights, all in between your meetings and other work obligations. But how do you choose? Worry no more. Our "top threes of cities" continues, with this one delving into the beautiful city known for its stunning architecture and deep-dish pizza. None other than vibrant Chicago, Illinois.
Top 3 Eateries in Chicago:
A relaxed, friendly, well-priced, and open café usually ticks all of the boxes for a quick breakfast before you're stuck in meetings all day. Wishbone Chicago serves delicious home-style southern dishes with a Cajun spin that will leave you satisfied until you can escape the work meetings for a late lunch. For a healthy start to the day, grab a bowl of oatmeal with almond milk and pecans. If something more indulgent is your thing, you absolutely can't go wrong with the chicken & waffles – a sugar waffle and fried chicken with maple honey butter and a side of fruit. For something hearty, order the chicken andouille hash with a side of the cheese grits.
There's this incredible lunch spot in Chicago that makes me salivate just at the thought of it. Lobster roll with truffle parmesan tater tots, curry fish cakes, fresh fish and chips, sriracha-sesame soy glazed grilled shrimp… YUM! Okay, it's a seafood lovers paradise, but they also have keto, vegetarian and paleo options, and seafood isn't the only thing they do well here. Brown Bag Seafood Co has a fresh take on what a restaurant should be.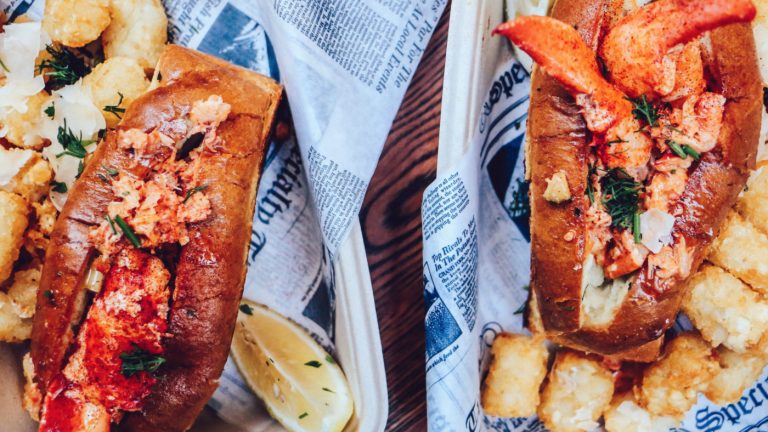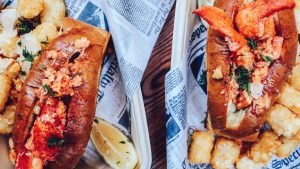 No table cloths or black-tie waiters in sight, they have a down-to-earth and happy atmosphere with DIY menu cards and use environmentally friendly and biodegradable packaging. If it's good weather, why not get it to-go? Located just a short walk away is Lake View Park which has lovely views of Lake Michigan.
So this just wouldn't be a Chicago list without some Chicago deep-dish pizza options. This place sells out quickly as they are crafted in very small quantities, but oh man, they are so incredibly worth it. Milly's Pizza in the Pan is owned by Robert, who handcrafts each pie himself from his grandmother's recipes. They open at 5 pm (take away only), so try and get there as early as possible to pick up your pie. The magic here is in the crust, with a halo of caramelized mozzarella that is wrapped around each pie, giving a satisfying crunch to each slice.
Top 3 Experiences in Chicago:
The Museum of Contemporary Art is wondrous, inspiring, and encompasses a refreshing new look at art that is not to be missed. Ever-changing exhibits that are playful, thought-provoking and enticing draw you in, but their permanent collection is every bit as incredible as those that stop by. With over 2500 artworks from the 1920s to present, they switch it all out over time, to ensure every piece gets its time to shine and doesn't sit locked in a lonely basement for all of eternity without appreciation. Admission is suggested as $15 per person, but something that really made my heart happy is their "pay what you can" policy. They won't turn anyone away, as they believe art should be accessible to everyone. I love this so much.
I think there are few things more thrilling in life (that you can do while sitting down) than going for a helicopter ride. Heart racing, adrenaline-pumping adventure, with views that will firmly rest in your memories for a lifetime. Chicago Aerial Tours offers a stunning 30-minute helicopter tour and allows you the opportunity to see the spectacular Chicago skyline from a unique vantage point. You'll be able to see the iconic Navy Pier, Lake Michigan, Soldier Field and so much more.
Hit up a comedy club for a truly memorable Chicago experience. The comedy greats started their careers here, like Dan Ackroyd, Bill Murray, John Candy, Steve Carrell, Mike Myers, Stephen Colbert, Tina Fey, Amy Poehler… and the list goes on! This really is THE comedy club to visit, and it is none other than Second City.
Top 3 Spots for Work Drinks in Chicago:
A rooftop bar, a food market that will have even the fussiest of eaters salivating, views for days of this breathtaking city, and a cozy all-season location to find it all. Tony's Rooftop Bar was named after the Time Out Founder, Tony Elliott, and is located at the top of the Time Out Market Chicago. Fairy lights, exposed wooden beams, and a plethora of delicious drinks on the menu, this spot is great for after works drinks to start the night off right.
Did you know that Chicago has the oldest Jazz club in the USA? Known for its eclectic jazz performances, poetry readings, and a great night out, The Green Mill jazz club has been welcoming tourists since 1907. They serve up a mean cocktail, they don't serve food, and they take cash only. This place is a gem and has some quirks, but you won't find a spot in Chicago that will serve up better live jazz music than these guys.
A unique experience and drinks all rolled into one. Chicago's Barrel Bus is a gigantic beer barrel on wheels (okay so it's a bus that looks like a beer barrel) that is one of the coolest ways to experience a couple of drinks after work. You can take one of their brewery tours, and while you can't drink on the actual bus, it will take you between some of the best Chicago breweries the city has to offer. I love kitsch, I love beer, and I love exploring new cities, so this tour is a gigantic win in my books!
Top 3 Free Things to do in Chicago:
You have probably seen this spot in your favourite movies and shows multiple times, but maybe you (like me!) didn't know it was actually located in Chicago. The iconic Navy Pier that juts out from downtown with incredible water views is the go-to spot in Chicago for live music, free public programs, dining, shopping, cultural events, and more. The Navy Pier is a great spot to just wander around for free, but you can also get some delicious bites from a concession stand, ride the Centennial Wheel, catch a movie at the IMAX, enjoy a Shakespearean show at the Chicago Shakespeare Theatre, or take a cruise on the river. Whatever you do – be it wandering and taking in the sights, or having a full day of concession stands, rides and theatre – you're going to love it here.
Catch an illuminating water and lights show at Buckingham Fountain, located in Grant Park. Once the sun sets, head to the fountain for its mesmerizing nightly light show. Up to 14,000 gallons of water is shot up into the air per minute, and it is all beautifully lit up after dusk. Water shows occur every hour on the hour and last for roughly 20 minutes.
Millennium Park is one of the most extraordinary public spaces in the world. The architecturally stunning centre-piece of the park is the Jay Pritzker Pavilion which hosts a range of free cultural
performances like concerts, movies, and dance shows, but is worth a visit even if nothing is on for its sheer beauty. Millennium Park also is home to "the bean", you know the one… the gigantic mirrored bean that is one of the world's largest outdoor sculptures by British artist Anish Kapoor. Its official name is Cloud Gate and is more incredible in person due to its overwhelming size. Be sure to visit Lurie Garden, which includes sculptures and lighting across their five-acre urban oasis.
Top 3 Business Travel Hotels in Chicago:
This lovely four-star boutique hotel is well priced, comfortable, sophisticated, and welcoming. This award-winning hotel, the Thompson Chicago, is located downtown and a short walk from Lake Michigan. Excellent dining options just steps away, friendly and helpful front desk staff, and trendy, clean, and cozy rooms that will have you wishing to extend your stay for another night… or 7.
Virgin Hotel Chicago is a fantastic business hotel, with economically priced rooms and is located in the heart of downtown. It's a chic hotel with a cool rooftop bar, which has some of the best skyline views to offer while sipping your handcrafted beverages. They have a huge amount of meeting room space, a phenomenal coffee bar, a couple of great restaurants and as mentioned, their rooftop bar – they really have everything you could need so you wouldn't even need to step outside of the hotel if you didn't want to! But do step outside the hotel, Chicago is incredible and you don't want to miss this vibrant city. What I'm saying is, the Virgin Hotel Chicago is an excellent choice for your business or leisure stay in this city.
It would be remiss of me to not include The Langham on here. Five-star luxury, with no expense spared, this mid-century-inspired hotel will have architecture enthusiasts enthralled. They also have one of the best hotel lounges in town! Sure, so it might be a bit high-end for business travel, but if you've got the budget for it, or want to stay an extra night in luxury, then this is the place to enjoy yourself (and in their award-winning spa!).
With your Chicago travels schedule looked after, it's time to pack!
Packing can be one of the hardest things to do before a business trip. You've got home from work, you're exhausted and all you can think about is taking a quick beer out of the fridge to relax… but you've got to be up early tomorrow to fly to another part of the world. We're here to help. Read our article on the best business travel packing hacks here.
We hope you enjoyed our list and it helps you enjoy the best of Chicago!
Are you looking to set up your business with a travel management company? Reach out to a Worldgo Specialist at 1-888-236-1566 or by email at travelrequests@worldgo.ca
Written By: Holly Atkins
February 26, 2021
Holly Atkins has been working in tourism for many years as a travel manager, tour guide and on the front desk in a couple of hotels. An Australian Canadian citizen that now permanently resides in beautiful Vancouver, BC, Holly can't think of a better place to call home with the vast mountains and her oceanfront dwelling. Touring on motorcycles for the past 14 years has allowed her to see places that few discover, and get off the beaten path to experience all that the open roads have to offer. Visiting a vast amount of the Oceania region, trekking around Europe, discovering BC and most recently travelling to Jordan and Egypt, she's always looking forward to the next adventure!