When you're thinking about choosing a travel management company for your small business it's hard to find one that looks after your needs and will provide the personalized service you require. You have likely asked the question of what makes for a good or bad small business travel management company and we're here answer that.
What makes for a good small business travel management company (TMC)?
There's so many parts of what makes for a really great small business TMC and a lot to consider when choosing the right one. Creating or updating your company's travel policy is the first step and one of the most important. A good TMC will sit down with you and discuss your travel policy to find out what loyalty programs are best, will figure out airline and hotel preferences and budgets, and will make sure the time is taken to go through each moving piece to guarantee that your travel policy looks after your company and staff. Travel policies shouldn't be a one-size-fits-all, and a good travel management company can help you put it together or discuss what points to address when you're updating your current one.
Another quality to look for in a great TMC is their available technology and what that tech can do to keep your company secure and save you money. Are they using the best tools possible for online bookings and overall system management? Everything these days is digital and you need a company that looks to the future and embraces change, keeping ahead of the game.
A great TMC is prepared for all situations…
Should anything go wrong while one of your staff is travelling, an experienced travel management company will quickly resolve it with their extensive travel knowledge, quick & creative thinking, and leading technology to get things done in a timely manner. A reliable and local after-hours emergency assistance line is comforting and usually well-versed in your company's account and policies.
Did you know that most TMCs outsource their after-hours emergency assistance? What this means is that if one of your staff requires immediate travel help, they might not be speaking with someone local who knows your company preferences and policies. These call centres are often lacking in compassion and customer service, staff are commonly overworked as they rush through calls, and attention to detail is not a high priority so things can easily be missed. Make sure to choose a TMC that will efficiently look after your staff in an emergency situation.
Think about invoicing and areas to save money –
Choosing the best small business TMC will mean you're going to be receiving one consolidated monthly invoice to save your accounting team headaches, and you're not going to be waiting weeks for answers about your account, or updates to it. It's really nice to have that personal touch and to speak with people you know. It also means things get done quickly rather than having to go through multiple departments to get a simple answer. TMCs will save your company long hold times with airlines, can make changes near-instantly and effortlessly, and will fight for you to get refunds and travel credits when possible.
The right TMC will be saving your business time, money, and further stress. They will source the best hotel chains with the best rewards programs (within budget) to get your staff great future travel perks and discounts on their stay where possible. Experienced TMCs will continually be on the lookout for other small business travel deals.
When not to choose a travel management company for your smaller business?
You might be thinking that your company is not big enough yet to justify the extra spend on a travel management company… and some of you might be right. If your employees are only travelling a handful of times a year and you've got the staff who can manage it for now, why would you need a TMC? Early investment in the right TMC is a huge asset to any growing business. It means you have the travel systems in place, ready for when your company grows. This will save you the future headaches of trying to look for a TMC when you should be focused on hiring more staff and all of the work that goes with it. A great travel management company doesn't have monthly fees, so having one ready to go makes sense for when your company starts frequent travel in the future. You won't be paying for a TMC unnecessarily as they will only charge per booking.
Of course, small business TMCs are not going to be the right fit for every company out there. For international businesses with offices located around the world, and staff travelling frequently outside of your TMCs opening hours, getting things booked and approved can take longer and might not make sense for your company when time is of the essence. In saying that, a good TMC will work with you to have policies in place so approval is instant for your VIP or frequent travellers, and this could alleviate any potential issues.
Make sure your TMC understands your business –
It's crucial to understand if your TMC is fully equipped to handle your travel spend, and this will be discussed during your first conversation with them to see if they will be a fit for you. A bad travel management company won't discuss your concerns fully and could dodge questions, so this is something to keep in mind. You need to fit together and that only comes with honesty from both parties and getting your questions answered. A transparent TMC is essential for small businesses to save time and money, and will allow a great relationship to form. One red flag for a possibly bad TMC would be if they accept your business without any discovery questions – make sure they know your company and your travel needs.
Emergency assistance is one of the most important things to consider!
As mentioned earlier, not all TMCs have local emergency assistance, and some don't have after-hours assistance at all. We believe that it's incredibly important to have localized after-hours assistance for the peace of mind it brings, and extensive knowledge of the clients travel policies. Should anything go wrong, you want your staff to be completely looked after. It is paramount. especially during a stressful situation, that your staff can trust that the TMC is working in their best interest.
How we're structured to be the best small business travel agency in Canada –
Our Vancouver-based Worldgo Travel Management team provides 24/7 local emergency assistance and will look after your staff in line with your policies, quickly and efficiently. We're completely transparent, have no hidden fees and we don't charge for after-hours or emergency assistance, changes or cancellations. Worldgo strives to reduce the cost, time, and complexity of travel management with personal service and our innovative technology.
We don't make any of our clients' sign contracts. Yes, you read that right. Worldgo Travel Management aims to earn your business with every booking we make for you. With meticulous attention to detail, exceptional customer service, and always on the lookout for customer rewards programs for small businesses, we do everything we can to earn your trust and put your company first.
With business travel back on the rise, now is the time to look at securing a trusted and experienced travel management company for 2021.
What is the importance of business travel management for the Canadian small business sector?
So why are TMCs so important in this age of digital technology, where everything is just a few button clicks away? It is estimated that global business travel spend will reach $1.6 trillion within the next 5 years. Travel for meetings, conferences, team-building events and on-site inspections have almost doubled in the past 10 years. This increase in travel means more time spent by employees researching their travel needs, putting together their expense reports, and following up for approvals. Then the accounting department has to reconcile all of the transactions, reimbursements and forecast budgets. Not to mention the issues that arise should changes need to be made or alternative emergency travel be sorted, this quickly becomes a giant amount of work for all involved.
With employees trying to look after their own travel, it quickly becomes overwhelming for everyone and wastes valuable company time. As a small Canadian business, it makes sense to get help with the operations of your business travel program and hire a dedicated travel management company. Great TMCs services will provide transparent expenses, follow your agreed-upon travel policies and simplify the process for all involved.
Business travel can actually help with employee retention!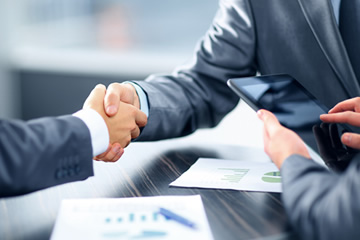 As a perk, your business travel policy can actually help with employee retention and appeal to new hires. For many people, business travel is not just an obligation, but it's actually an added work bonus. It's good to consider not just the initial cost savings, but also how the policy can benefit your employees.
To summarize, the best TMC for smaller Canadian businesses has a focus on customer service, employs innovative and leading travel technology solutions, and provides 24/7 local support. With a great travel management company, you will never feel like just a number.
Is a small business travel management company sounding good for your business, or something you'd like to hear more about? Send us an email or give us a call to set up a free consultation.
Reach out to a Worldgo Specialist at 1-888-236-1566 or by email at travelrequests@worldgo.ca. You can read our testimonials here.
Written By: Holly Atkins
January 20, 2021
Holly Atkins has been working in tourism for many years as a travel manager, tour guide and on the front desk in a couple of hotels. An Australian Canadian citizen that now permanently resides in beautiful Vancouver, BC, Holly can't think of a better place to call home with the vast mountains and her oceanfront dwelling. Touring on motorcycles for the past 14 years has allowed her to see places that few discover, and get off the beaten path to experience all that the open roads have to offer. Visiting a vast amount of the Oceania region, trekking around Europe, discovering BC and most recently travelling to Jordan and Egypt, she's always looking forward to the next adventure!