How to Spend 24 hours in Las Vegas
Whether it is business or pleasure that brings you to Las Vegas, the city is made for those with limited time. Restaurants, shopping, and entertainment are all at your fingertips and a city that is so easy to get around, you can really maximize your free time. Not sure where to start? We have a few ideas on how to get the most out of your 24 Hours in Las Vegas:
Photo Credit: Daniil Vnoutchkov
Morning
After an early morning flight, you're going to need your energy, so start your day off by fueling up at Mr. Mamas Breakfast & Lunch. Not far from the airport, this place is known for its friendly service, hearty food, and desire to make everyone "feel at home". The menu boasts a variety of options to choose from, from smaller appetite items to large American breakfasts. Mr. Mamas will fill your belly and leave you with a smile on your face. The perfect way to kick off your 24 Hours in Las Vegas.
After filling up at breakfast, check into your hotel and put on some comfortable shoes, and get ready to hit the strip. The Las Vegas strip is meant for walking so explore your surroundings best on foot. Check out the fountains at the Bellagio, the dreamlike Venetian, and the Roman-themed Caesar's Palace. Stop off for a drink at the Paris Hotel's Mon Ami Gabi, in front of the Bellagio's fountains. While enjoying your drink, check out www.lasvegastickets.com and see what shows are offered tonight.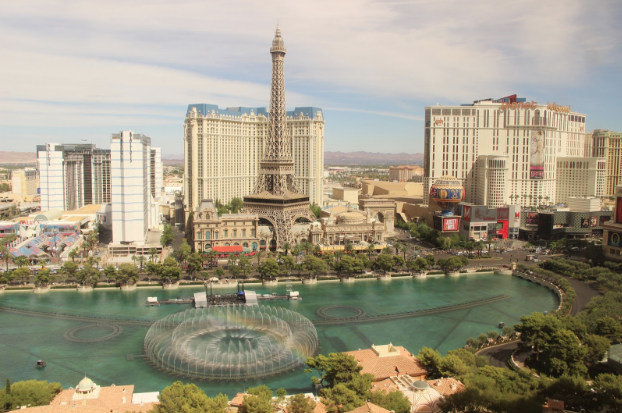 Photo Credit: Aldric Rivat
Afternoon
After booking your entertainment for tonight, venture back to the strip and grab a taxi to the North Premium Outlets to buy your outfit! These premium shops offer insane deals on popular brands for both men and women, and it really isn't a Vegas trip until you've shopped there!
After some retail therapy, head to Rollin' Smoke Barbecue for some Southern flavor. Whether you're craving a rack of ribs, hearty meatloaf, hushpuppies or spuds, Rollin' Smoke's menu will have your mouth watering. You're only here 24 hours, so this is your chance to binge!
Before heading back to your hotel to wash up before a show, make sure to check out the Neon Museum, which houses the neon signs that are classic to Vegas' history. The museum is a non-profit organization that offers guided tours of the "Neon Boneyard".
Evening
After taking a bit of time to yourself whether that be a quick dip in your hotel pool or some relaxation in the sun, get ready for your night out. Starting off with an early show, enjoy the world-class entertainment offered in Vegas.
When the show has ended, make your way to dinner at Estiatorio Milos at the Cosmopolitan Hotel. This Greek eatery is known for its delicious Mediterranean food, especially the seafood. After dinner, wander into the casino of your choice to test your luck! Fingers crossed you'll leave with some winnings, but either way, you'll have a fantastic time.
If you're up for an all-nighter, there's no place in the world like Vegas. With loads of restaurants that offer late-night eats, casinos that are open for all hours, bars with amazing DJs, and live music, there is no shortage of options. By the end of your 24 Hours in Vegas, you'll be due for a vacation, and Worldgo can help you with that, too!