Good Feelings or Solutions to Problems?
As a corporate travel agency, we balance client expectations while leaving extra 'leg room' for unique needs, wants, and interests. We recognize that at least initially, our business travel clients come to us with a singular problem – one that requires responsible assistance. Over time, however, we've come to recognize that solving these problems at the highest level is not quite good enough and that a client's problems are often more complex.
They require both a technical solution and an emotional solution, and we need to find the sweet spot between solving travel problems and good-feelings.
When one buys life-insurance they aren't buying a piece of paper, they are buying peace of mind. When one goes out for dinner they are satiating their hunger, but what they are really buying is convenience, entertainment, and an experience. If you stop to think about it, have you ever made a purchase that wasn't either a solution to a problem or something that made you feel good? I don't think you have.
For every one of us at Worldgo, our clients bring travel problems to us. They need to go, to stay, and to do – all within a unique budgetary and accountable framework. It's here that the most important part of our job occurs. We listen. We then ask "What is the ideal solution to this problem?" It's like visualizing the finish line and then committing to work backward from it.
The answer is always the inner space in the Venn Diagram below – that sweet spot between problem-solving, customer service, risk mitigation and needs anticipation.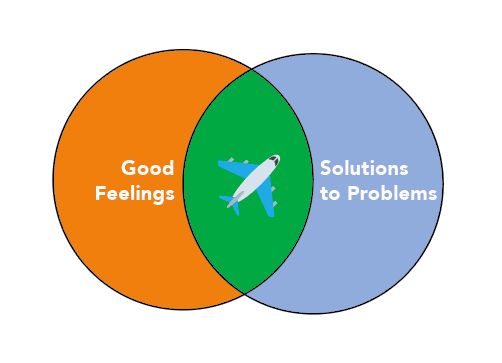 A recent Inc. article by Ilya Pozin claims that customers are really just buying experiences and that there are 4 pillars to delivering a positive experience.
Focus on the shopping experience, not the buying experience.
Choose quality of service, over speed.
Personalize customer experiences.
Communicate constantly.
Pozin goes on to say that "Delivering a great experience is powerful, and while it's not always easy to do, it will keep your audience coming back for more".
Similarly, Hubspot wrote an article that details 'Service Needs', and at Worldgo Travel Management, this is where we hang our hat.
Empathy – When our customers get in touch with customer service, they want empathy and understanding from the people assisting them.
Fairness – From pricing to terms of service to contract length, our customers expect fairness from a company.
Transparency – Customers expect transparency when they're doing business with us. Service outages, pricing changes, and delays, our customers deserve openness from the businesses they give money to.
Control – Customers need to be in control of the business interaction from start to finish and beyond, and customer empowerment shouldn't end with the sale. Where possible, we make it easy for them to change their plans or adjust their terms.
Options – Customers need options when they're getting ready to make a reservation. We offer a variety of options, prices, and terms to provide freedom of choice.
Information – Customers need information, from the moment they start interacting, to the days and months after traveling. As a business, we invest in educational, instructional knowledge base content, technology, and regular communication so our customers have the information they need when they need it.
Accessibility – Customers need to be able to access our service and support teams. This means providing multiple channels for customer service and support.
Truth be told, our clients aren't any different than any other business or service provider. They all have problems, and they want an experience that makes them feel good. That's where the business relationship can flourish.