Business travel can be a hassle. Long flights, unfamiliar airports, and other challenges can make travelling for work an exhausting experience. From packing to navigating an unfamiliar city to staying connected while on the go, there are many details to manage and keep track of.
Thankfully, there are apps out there designed to make the process smoother and more efficient Keep reading to learn about five awesome apps for business travellers that will make your next business trip feel like a breeze.
Technology for business travel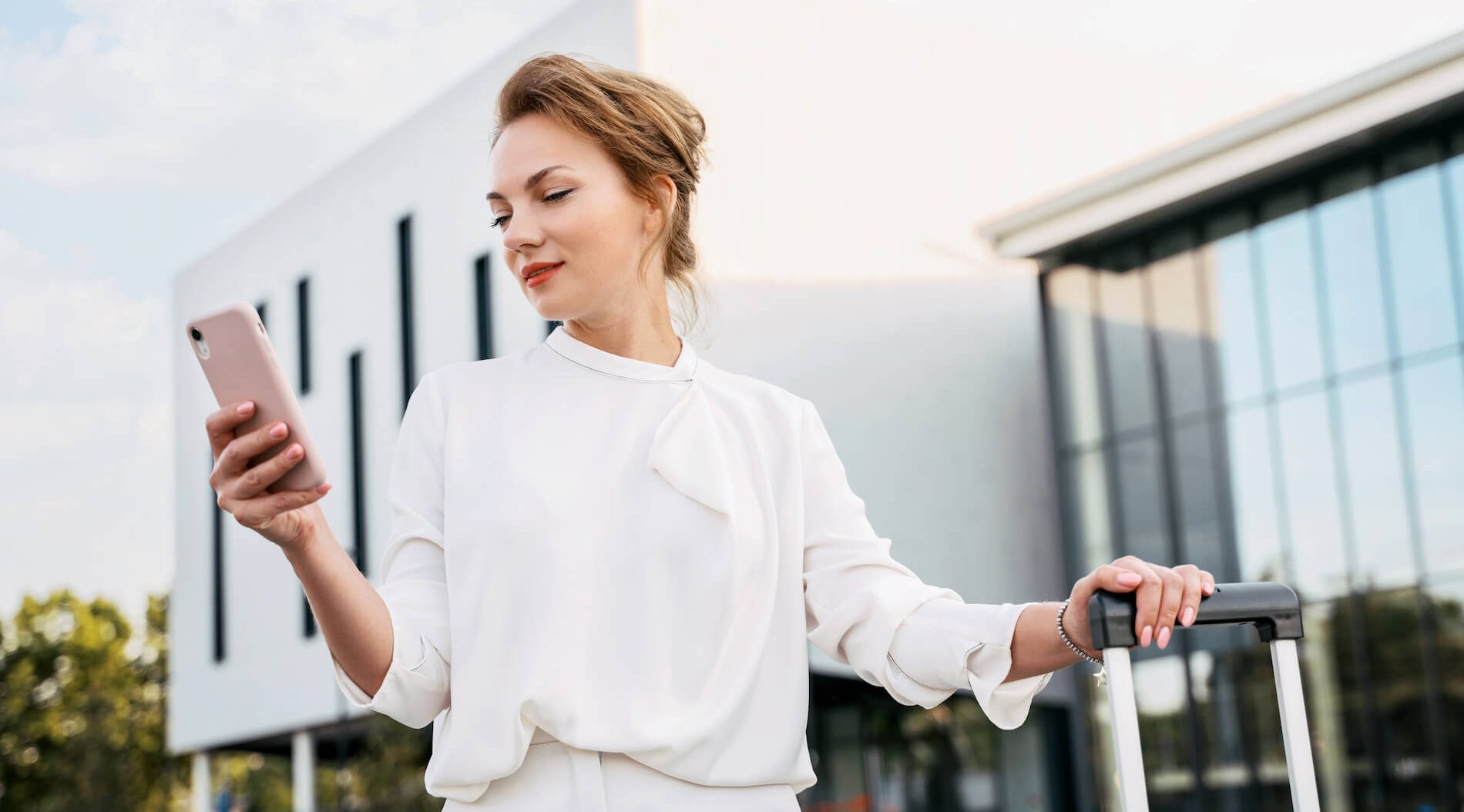 Technology can make business travel a lot easier and more efficient. From tools to help you plan your trip to apps that will help you stay connected while on the go, technology can help reduce stress, save time, and increase productivity. Travel technology has made it easier to automate bookings, make payments, and execute back-office tasks. This enables corporate travellers to make their online bookings and run essential errands without the need to involve a third party in the mix.  
Technology for business travel makes us self-reliant and enables us to maximize productivity. 
Business travel tech essentials
We already mentioned how stressful business trips could be. But if you are unprepared for the journey or forget to pack some essentials, your plans will be in disarray. 
Whether you are headed to a business conference, a sales pitch or to meet existing clients, packing for a work trip is an important step.  Before you suit up to jet off for that important client or colleague meetup, here are some important business tech travel essentials to take with you:
Laptop and/or Tablet 
It goes without saying that if you're travelling for business, having access to a laptop or tablet is essential. Make sure your device has enough storage space for all your documents, photos, videos, etc., as well as a long battery life so you don't have to worry about charging it throughout the day. If you plan on using your device for work purposes, consider investing in a laptop with more power than a typical consumer model. 
Noise-Canceling Headphones 
Travelling can be stressful but it doesn't have to be noisy. Invest in some good quality noise-cancelling headphones or earbuds so that you can focus on your work without being distracted by the sounds around you. Look for models with Bluetooth capabilities so that you can easily connect them to your laptop or other devices without having to fumble with cables. 
Portable Charger and Mobile Hotspot 
Having access to reliable internet wherever you are is essential when it comes to staying productive while travelling. We recommend packing a portable charger and mobile hotspot to ensure that you always have access to both power and data when needed. This way, even if the hotel WiFi isn't working properly, or if there's no free WiFi available at the airport, you'll still be able to get online quickly and easily.  
External Hard Drive & Cloud Storage Services 
 You should not leave home without an external hard drive or cloud storage service! These are great for backing up files before and after trips – make sure not to leave them in public places or on public transportation! For extra security, encrypt your files with password protection before transferring them onto the external drive or cloud service so no one else can access them in case of theft or loss. 
Cloud Services like Dropbox and Google Drive are also great for sharing large files quickly while on the road; they also allow you to store documents online so they can be easily accessed from any of your devices at any time!                                                       
Apps to Help with Productivity While on the Road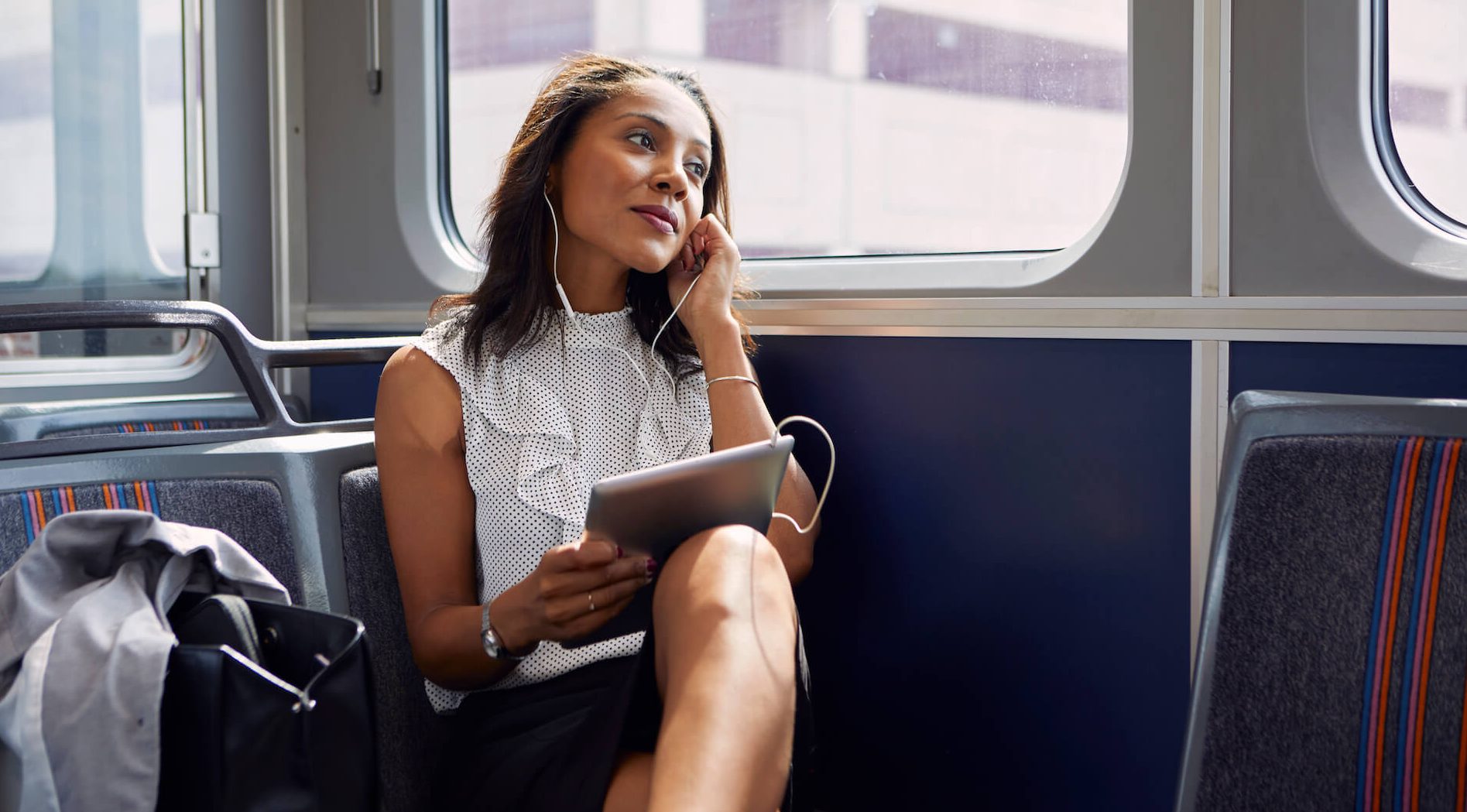 Here is a look at some of the most helpful apps for business travellers.
Evernote
If we had to give the title of the ultimate digital notebook, Evernote would be it. This powerful app lets you do more than just take notes. From adding text notes, audio clips, images, PDF documents, scanned handwritten pages, conversations from multiple project management apps, emails, websites and more, the list is endless! Evernote is a safe place to throw everything and easily sort and organize them. You can access a slew of more features if you opt for the paid monthly subscription. 
Translation Apps – Google Translate and iTranslate
Most corporate travellers who go on international trips can understand the frustration of not being able to read certain signs or understand the local language. This affects productivity and can also be dangerous in an emergency! This is where translation apps like Google Translate and iTranslate come in to save the day. These apps allow you to interact with other languages and have a vast library of languages from around the world! This may not make you fluent in the local language but will help you understand the basics just well enough to get through your business trips!
LastPass, a great app for business travellers
Passwords are hard to remember. We have all been in a position where we forgot a password and ended up spending a lot of time to retrieve a certain account. With LastPass, you will never have to worry about losing passwords ever again! As a password manager tool, it does the work of creating, remembering and filling in passwords. Simply log into an online account for the first time and LastPass will store your username and password so every time you go back your credentials will be filled in automatically.
Worldgo Mobile Travel App
This must-have travel app is the industry standard to see all your travel plans in one place. Worldgo automatically and seamlessly compiles everything into one master itinerary allowing you to view your entire trip on your tablet or smartphone. No need to get into your inbox and hunt for flight, car, or hotel booking, it's all there in one place, in an easy-to-read, fluid format. In addition, you'll receive automatic notifications of gate changes and flight delays, you can check in for your flight, view the weather in your destination, or even make restaurant reservations. With the click of a button, you'll be connected to a Worldgo agent, available 24/7 to assist you. Available for download in the Apple Store or on Google Play.
Bonus App for business travellers: Car Booking Services – Uber and Lyft
Uber and Lyft are two must-have apps when travelling for work because they make getting around town much easier than hailing traditional taxis or relying on unreliable public transportation schedules. Both Uber and Lyft offer carpooling options as well, so if you need to get around with colleagues then this is a great way to save money while still being able to get where you need to go quickly and safely.
No matter what kind of business trip you're embarking on, these apps should make life easier by providing useful information quickly and conveniently while on the go. From booking flights and hotels to managing your itinerary and converting currency, these apps have your back! So if you've been dreading upcoming business trips due to all the hassle involved—fear not! With these awesome apps by your side, every business trip will be a breeze!
We hope these business travel apps will help you be more productive when on the road. Safe travels! 
 Some related questions you might have about apps for business travellers:
How does technology affect travel?
The advent of technology affects travel positively by making the user experience smooth and productive. Mobile apps and sites have transformed the way we manage bookings and reservations, documents, and more, all from the palm of our hands. 
What are some of the best travel apps?
Some of the best travel apps are the ones that help you boost productivity while being user-friendly. Apps like Uber, Worldgo, and Google Translate can be great tools to make life easier while on the go!
Why is a Travel Reporting Platform important?
A travel-reporting platform is important to track spending patterns. Such a platform can enable sustainable corporate travel practices and minimize errors and inaccuracies. Travel reporting platforms are great to maximize productivity and efficiency.