Why chose Westjet for Business Travel?
Since 1996, Westjet has been connecting Canadians to destinations throughout Canada and beyond. It started as a low-cost carrier based in Western Canada, serving only Calgary, Edmonton, Kelowna, Vancouver, and Winnipeg.
Today, they serve 45,000 passengers per day, to 100+ destinations in Canada, United States, Europe, Mexico and Central America. They fly in and out of major commercial centres such as London, New York, San Francisco, Los Angeles, Chicago, and Phoenix. This growth in destination and scale has created the demand for their comprehensive WestJet for Business Travel program.
WestJet's website states 'We know business travel can be challenging, so we offer a variety of services and benefits to help your day go as smoothly as possible. Benefits like no overbooking, a rewards program with no blackouts, a convenient schedule and more'.
Worldgo took a deep dive into the nuances of this program and broke down the major benefits for our corporate travel clients.
Instant Savings
When a business enrolls with the WestJet for Business Travel program through a travel management company, like Worldgo <link>, they receive an instant savings of between 3-8%. That's a significant difference over the course of a year. Queue one happy accountant.
No Overbooking
This one is straightforward. Media has shone a bright light recently on overbooking, featuring dramatic scenes of people being forced out of their scenes. With WestJet for Business Travel, your seat is your seat. Period.
Name Changes
Staff get sick? With WestJet for Business Travel you can change the name of a ticketed traveler without any fuss. Peace of mind.
WestJet Connect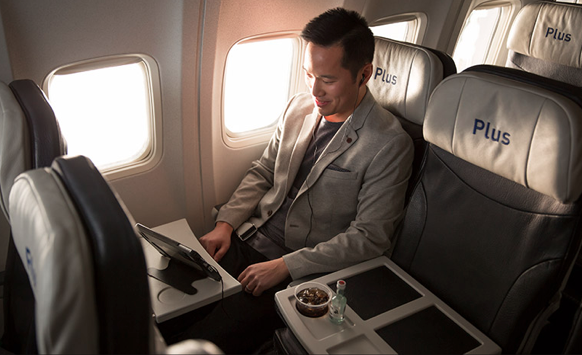 Internet access in the sky. WestJet offers business travelers the chance to choose from 3 different Internet options while flying. Convenience.
Fare Options and Scheduling
On a budget? No problem. WestJet is known for their low-rates fare class and convenient scheduling, but it's their Premium Economy class options that's ideal for business travel in Canada.
Premium Economy Options (Plus)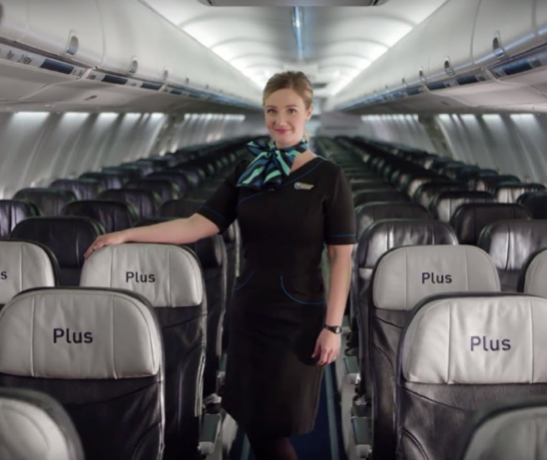 Need more leg room, or more space for your laptop? With WestJet for Business Travel you can take advantage of low fares with more comfortable seat options. In this age of 'pay for everything' flights over 2.5hrs receive lunch-style fare.
Two (2) checked bags (Plus)
Lugging around brochure stands and sales equipment? Take advantage of 2 complimentary checked bags and put a smile on your accountant.
Priority Seating Available Airports (Plus)
Nobody likes lines. Get seated fast and you can get back to work quicker or stretch your legs a little sooner.
No change fees (Plus)
Ever had your New York clients cancel the day before you're set to arrive, and a staff emergency happen in San Francisco. That can be a costly hit to your business budget. With WestJet for Business Travel in the Premium Economy (Plus) class, you can have peace of mind that and flexibility up to 2hrs before your flight takes off. There are some minor terms, but all are very reasonable.
WestJet dollars
If you spend $6000/year with WestJet for Business Travel you are rewarded with Gold Status. Gold Status earns 5% back in WestJet dollars, gets 10 airport lounge passes, and perks like 2 free checked bags, priority screening, and advance seat selection.
Partner Lounges
Partner Lounges give travelers a chance to unwind comfortably before their next flight. Lounges are available in cities like Calgary, Toronto, Vancouver, Edmonton, Winnipeg, Montreal, and London to name a few.
Although their humble roots began as low-cost carrier flying used planes into modest destinations, their vision has remained anything but. WestJet has grown into a brand that is now synonymous with customer service and 'staff ownership'. They have earned the trust of Canadian business travel, and have evolved to meet the demands of Canadian business travelers.
Contact Worldgo today and let's chat about how we can include WestJet for Business Travel in your corporate goals.