How to Spend 24 Hours in Chicago
We've all been there – we've scheduled a business meeting in an amazing city but have little time to get out and see anything. When visiting a city like Chicago, it's a shame to miss any of it, but with limited time, where are the actual "must-see" places, and "must-do" activities? It just takes a little planning, but we're here to help add a little pleasure to your business. Here's Worldgo's guide for how to spend 24 hours in Chicago – the Windy City:
Photo Credit: Justin Eisner
Here you are, you've booked yourself in for a morning meeting, so you have the rest of the day ahead of you. Energize yourself with a tasty lunch at La Palma, a Puerto Rican restaurant in Humboldt Park. The food is homemade, fresh, and gives you a real taste of Puerto Rico. After a bite, take in the beauty of Humboldt Park.
From there, take a stroll on the 606 – a 2.7 mile stretch of abandoned, elevated railway track. The 606 runs through Bucktown, Wicker Park, Humboldt Park and Logan Square. The full track should take a little over an hour to walk, but there are several access points you can use to descend.
Make your way by taxi or Uber to Millennium Park where you can snap some photos of the city reflected in the "Bean". Enjoy other art installations throughout the park, or head over to the Art Institute of Chicago if you're keen. The Art Institute houses brilliant artworks from famous artists including Picasso, Pollock, Monet, Warhol and more!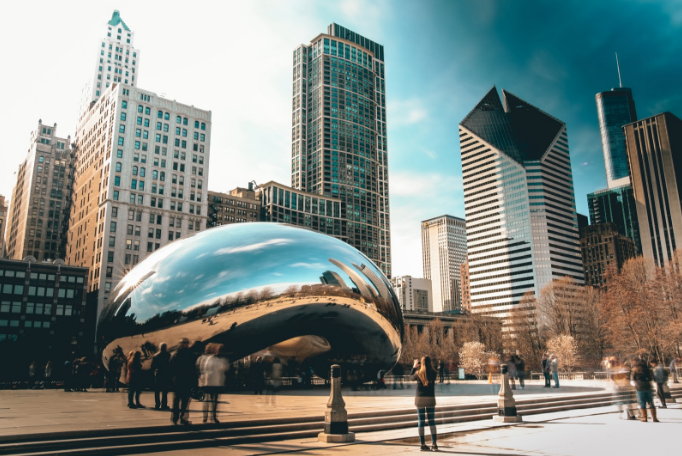 Photo Credit: Sawyer Bengston
At this point, you're likely working up an appetite, so you'll definitely want to test some of that Chicago Deep Dish pizza everyone talks about. What better place to go when you only have 24 hours in Chicago than Lou Malneti's? There are a couple of dine-in locations near Millennium Park. We recommend the Deep Dish Malneti Chicago Classic. It doesn't get more Chicago than that!
After filling up on pizza, it's absolutely worth taking an Architectural Boat Tour. This gives you major insight to the history of Chicago, interesting facts about the city, and while touristy, it definitely highlights the beauty of this incredible city.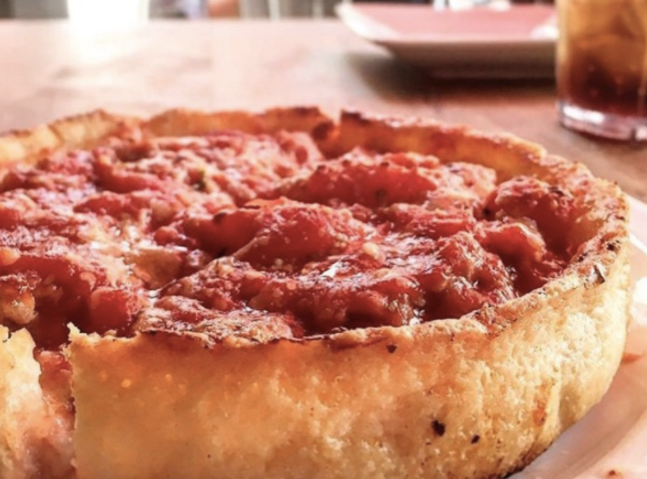 As you step off the boat, you'll want to grab an Uber to Chicago's West Loop. It's not too far, but it's a hip area where you'll find great late-night eats and drinks, completely worth the short trip. Head over to Green Street, where you'll find the Soho House, a home away from home for members working in creative fields. The building is a historic landmark in Chicago, an old industrial warehouse converted into a hotel/house and restaurants. To the right of the main entrance you'll find The Allis, a great little spot to have a few cocktails, wine or craft beer. The Soho Mule is an absolute must!
Post-drinks and after you've settled from the pizza, you'll find a great selection of spots to grab a bite within walking distance. Directly across the street from Soho House, you can find High Five Ramen, a tiny, hole-in-the-wall, blink-and-you'll miss it, spot on Green Street. They're open until midnight most nights, but serve amazing ramen, made to order, right in front of you.
Chicago is a bustling, exciting city with options for personalities of all types. It is jam-packed with history, culture, art, music and architecture, so regardless of the time of year you go, you'll find yourself with the tough decision of what to do. Take our word for it and check out some of these great spots next time you only have 24 hours in Chicago! If a business trip to Chicago is in your plans give us a call, and we'll show you how we can help make it a success. Contact us, today.